Dr. Ehninger's Bronchial Support Formula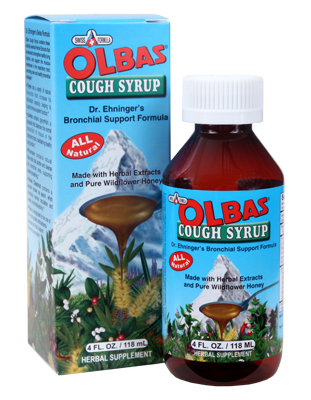 Made with Herbal Extracts and Pure Wildflower Honey

Helps Support Healthy Bronchial Activity

Good Tasting Herbal & Honey Flavor

Excellent For Children and Adults

All Natural Herbal Supplement Formula

Gluten Free

Five herbal extracts, six essential oils and wildflower honey are masterfully blended into this highly effective yet pleasant tasting herbal formula that helps support healthy bronchial activity. Provides natural antioxidants that support the immune system, easing the stresses of winter's insults and environmental pollutants.*
About the Swiss Olbas Cough Syrup Formula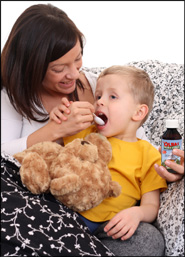 Olbas Cough Syrup contains a small amount of Olbas Oil along with these carefully selected Herbal Extracts that are blended to strengthen healthy lung function and support the mucous membranes in the respiratory tract, promoting clear and healthy bronchial passages:*
Thyme has a variety of natural flavonoids that increase its antioxidant capacity, helping to support immune system function.*
Licorice contains glycyrrhizin, a glycoside that balances the normal production of mucus in the respiratory tract, maintaining healthy lung function.*
Plaintain contains natural flavonoids that soothe and cleanse the bronchial area, supporting healthy breathing.*
Horse Chestnut contains a saponin known as aescin, which promotes normal circulation and healthy bronchial activity. *
Pine is recognized to be one of the most potent antioxidants- substances that support the immune system. *
Benefits of Honey
In a study at Pennsylvania State University's College of Medicine involving 105 children aged 2 to 18 with infections of the upper respiratory tract, the honey was significantly better than no treatment at all. On a 7 point scale, parents reported a 2.5-point improvement in their children's ability to sleep after they took a teaspoon or two of honey. Honey also seemed to reduce cough severity and frequency, though it is not considered safe for children under 12 months.
Children and adults love the natural herbal-honey taste, and you'll especially love the soothing natural benefits.
Directions:
Shake well before using.
Adults and children 12 years of age and over: 1-2 teaspoons every 2 hours.
Children: 6-12 years: 3/4 teaspoon every 2 hours.
Children: 3-6 years: 1/2 teaspoon every 2 hours.
Under 3: consult physician.
Olbas Cough Syrup Details
Available in 4 Fl. Oz. Bottles
All Natural Formula: Wildflower Honey, Water, Extracts of Thyme, Licorice, Plantain, Pine and Chestnut, Essential Oils of: Peppermint, Eucalyptus, Cajeput, Wintergreen, Juniper and Clove, Citric Acid.
Olbas Cough Syrup is tested for safety without the use of animals. Contains no artificial sweeteners, colors, or preservatives, and no animal ingredients.
* These statements have not been evaluated by the Food and Drug Administration. This product is not intended to diagnose, treat, cure, or prevent any disease.
---
Customers who bought this product also purchased
---