Instantly Soothing, Delicious, and Healthy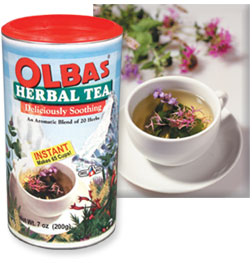 Soothes You Any Time of the Day or Night

Delightful Herbal Aroma

Surprisingly Delicious Herbal Flavor

Excellent Hot or Iced, Blends Instantly

A Mixture of 20 Soothing Herbs

Instant - No Tea Bags, Straining or Mess

Gluten Free
Discover the delicious taste and healthful benefits of this 100% natural herbal tea. Carefully blended in Switzerland, O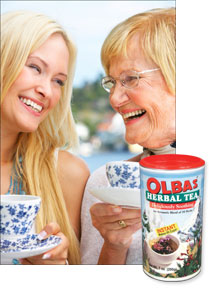 lbas Instant Herbal Tea is a mixture of 20 soothing herbs harvested from the earth's finest crops, enhanced with pure essential oils that make Olbas Remedies famous around the world.
Provides a delightfully warm, soothing feeling you will enjoy at any time of the day or evening. Especially beneficial for relief from chills, and during times of seasonal discomfort.
Has a delightful, Olbas-herbal aroma that provides a pleasant, refreshing sensation to your nasal passages. Gives you an immediate, fresh, clean feeling in the nose, sinuses and lungs.
Enjoy it anytime, either hot or iced.
Directions:
For Hot Tea: Use 1 teaspoon per cup of hot water. Stir until completely dissolved. If a stronger tea is desired, use more. No sweetener necessary.
For Iced Tea: Dissolve in a small amount of hot water, then add cold water and ice.
Olbas Herbal Tea Details
Net Wt. 7 oz (200g) Makes about 65 cups.
Ingredients: Grape Sugar, Sugar, 20 Herb Extract (Peppermint, Chamomile, Fennel, Thyme, Iceland Moss, Licorice Root, Lungwort Herb, Star Anise, Marigold, Yarrow Root, Elder Flowers, Lime Flowers, Blackberry Leaves, Sage, Eucalyptus Leaves, Plantain Leaves, Cyani Flowers, Cowslip, Mullein Flowers, Malva Flowers), Fruit Pectin, Menthol, Peppermint Oil, and Eucalyptus Oil.
Customers who bought this product also purchased