Olbas Herbal Bath, 8 oz.
Soothes, Relaxes, Tingles & Invigorates


Turn Your Tub Into a Swiss S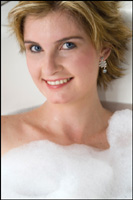 pa!

Marvelously Relaxing After A Tough Day

Use in the Tub, Whirlpool, or Shower

Olbas Vapors Encourage Free Breathing, Too!

Natural Formula: NO SLS or SLES

Contains Chlorophyll, a Natural Deodorant
Olbas Herbal Bath is a delightful, therapeutic and fragrant bath liquid from Switzerland. It soothes and relaxes aching bodies as it tingles and invigorates all the body's senses. Marvelous after a hard day of work, sports or everyday tension.
You can use it in your favorite bathtub. Or, for lots of bubbles - try it in a whirlpool bath! A little bit goes a long way. Use it in the shower as a liquid soap - makes an excellent body wash that will stimulate all your senses and leave you feeling clean and refreshed. Excellent as a footbath for tired, aching feet.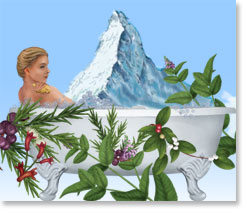 You'll really enjoy the delightful aroma of Olbas Herbal Bath. Natural Olbas vapors provide a pleasant, refreshing, and cooling sensation to your nasal passages. This unique experience is especially pleasant during times of seasonal discomfort, which can often bring unwelcome nasal encounters.
Provides wonderful relief for children, too! A warm, bubbly Olbas Herbal Bath helps enhance their breathing and helps them get a good nights sleep.
Blended with chlorophyll, Olbas Bath also acts as a natural deodorant, so it keeps you clean and fresh. Provides a truly exceptional experience that can be enjoyed by the entire family!
Directions:
Tub: Add 2-4 tablespoonfuls to tub of hot water. If foam is desired, add to running water.
Shampoo or Shower: Use as a shampoo or as a liquid soap on a wash cloth, sponge or brush (avoid contact with eyes).
Foot or Sponge Bath: Add 1-2 tablespoonfuls to each gallon of hot water.
Whirlpool: To begin, add 1 teaspoonful. Then add sparingly to adjust for size of tub, foam and degree of stimulation desired.
Household Use: Try it for a variety of cleaning needs - pleasant aroma, safe, effective and deodorizing.
Olbas Herbal Bath Details
Available in 4 & 8 Fl. Oz. bottles.
Ingredients: Water, Cocamidopropyl Betaine (Coconut Based Foaming Agent), Sodium Coceth Sulfate and PEG-40 Glycerol Cocoate (Coconut Fatty Esters & Hydrogenated Castor Oil), PEG-6 Caprylic/Capric Glycerides (Coconut and Palm Oil Based), Peppermint Oil, Eucalyptus Oil, Decyl Polyglucoside (from Glucose), Cajuput Oil, Wintergreen Oil, Juniper Oil, Chlorophyll, Clove Oil. (Contains NO SLS or SLES)
CAUTION: For external use only. Use only as directed. Excessive use or prolonged exposure may cause irritation to skin and urinary tract. Discontinue use if rash, redness or itching occurs. Consult physician if irritation persists. Keep out of children's reach, except under adult supervision.